Union rallies against the much debated cost of living crisis have been held in cities across the UK in the past few weeks. The one in Brighton had originally been postponed due to the death of Queen Elizabeth in early September, but has now finally taken place a month later.
Demands for pay increases
During the event – held at an audience-packed Brighton Dome – representatives from the University and College Union, UCU, pointed out that their members had worked through a pandemic without being rewarded for it. In addition, union demands for pay increases depend on what is claimed to be major cuts in pension funds over the years, as well as pay cuts of up to 25 per cent over a 12-year time span.
All the above are topped off by an accelerating inflation rate fuelling the largest cost of living crisis that the UK has ever seen.
At of the same time, vice-chancellors and management at senior level have often take home six-figure salaries, UCU General Secretary Jo Grady pointed out while taking the stage at the Brighton Dome.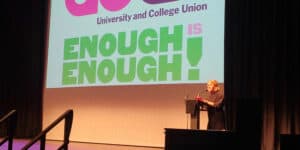 She also said that some university workers could hardly afford food or to pay their electricity bills, mainly because of bad decisions by politicians and employers' reluctance to increase wages in line with inflation.
"The UCU is a fighting union, and I am so proud to lead it. We have over 3,000 college workers out on strike now fighting for fair pay and respect", Grady said.
A collective uproar
The Enough is Enough campaign is a collective uproar protesting the UK cost of living crisis. In a collaborative effort, trade union organisations such as The National Union of Rail, Maritime and Transport Workers and the Social Workers Union, have all decided to take part in the campaign. With UCU being the primary organizer.
The main reason is that they've all had enough, UCU General Secretary Jo Grady explained to a cheering crowd.
"Workers are calling in sick. Just because they can't afford the bus fare to go into work".
She continued:
"If postal workers stop, there is no mail. If our railway workers stop, trains don't run. And if our college and university staff strike, they can't keep up education either."
Thus far staff at colleges in Liverpool, Burnley and Oldham all have been called out on strikes. They were followed by Blackburn and West Lancashire. Starting next week, from Monday October 17th to the 19th, staff at Falmouth University are following suit and announced a three-day strike.
Continuing strikes at university-level
UCU now plan to continue the strike at higher-education-level in universities all over the UK, unless pay rises arrive, explained UCU President Janet Farrar joining on stage. She emphasized that universities in different UK cities are now balloting whether to join up with their fellow colleagues.
"In higher education and our university sector who have been consistently fighting serious cuts to their pensions, massive problems with equality pay gaps and the scourge of casualization which is so unbelievably huge in the university sector they are currently engaged in the biggest ballots in the unions history", Janet Farrar said.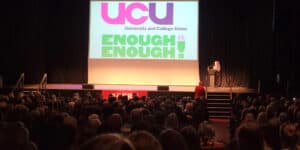 She continued to draw applause from the roaring crowd at the Brighton Dome, while underlining once more that the UCU aim to take every single university in the UK out on strike.
"We are ready to take action, so be prepared and get ready", Farrar said.
UCU General Secretary Jo Grady urged the crowd to make some noise for public ownership of UK railways. To bring the UK mail service back into public hands. To make sure energy companies are being properly taxed and finally, to stand up for university workers fighting for free education.
"It's time to take back what's ours", she said before walking off stage to the thunderous sound of applause from the Brighton Dome crowd.