Do you know a comic artist? If so, they may want to help you present your research to others. That is roughly how Anna Jonsson, a docent and organisational researcher at Lund University, came up with the idea.
Helped by comic artist
Together with her colleague Maria Grafström, an organisational researcher at SCORE, the Stockholm Centre for Organisational Research, she enlisted the help of comic artist and designer Axel Brechensbauer on a project on research communication, financed by the Riksbankens Jubileumsfond, RJ.
"In a time of increased resistance to knowledge, where there are many actors trying to be heard and seen, we should find new ways to communicate research," says Jonsson. "This is one such way."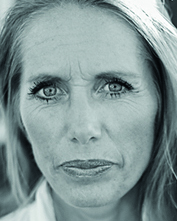 The challenge lies in finding the right balance so that the research reaches a broad audience without being oversimplified, she continues. Comic art fits the bill, as it is not just about images, but also describes what is not said.
Resulted in research comics
The result was what she, Grafström and Brechensbauer call research comics.
"By using that term, we want to capture the idea that it is precisely a meeting between science and art, and not just a cartoon of completed research. The aim is to investigate what it means to have someone else's eye on the process – in this case that of the comic artist – and whether we then see other things."
Her view is that when science and art meet, it usually happens at the end of the process. She and her colleagues think that this meeting can instead take place throughout the process. One reason why they chose comics is that it is an art form that appeals to a broad target group, both children and adults, says Jonsson.
"We talk a lot about the need to reach out to the general public with research, and that was an important starting point for us. For example, I think poetry or fiction might appeal to a slightly narrower target group."
Worked on a similar project
Previously, she and Maria Grafström – together with Lars Strannegård – also worked with a similar project with the writer Oline Stig.
One example of the research comics that her research group, the Research Comic Group, has worked on is a collaboration with the Swedish Space Agency, where a number of comics were used to describe the Agency's work to develop a new satellite.
Another was about translating research on locally produced food, where the target group was farmers in sparsely populated areas.
What lessons can other researchers learn from your projects?
"The feedback from the people we have collaborated with so far is that we have helped the researchers and those involved see new things in their material. Partly through looking at and reflecting with us about the first sketches, and partly through the end result.
What is the next step? What other art forms would you like to try using in research communication?
"We would really like to develop this method, but there are also other meetings between art and science that are interesting. For instance, I have started to read about how architecture and sculpture as art forms are described. I am not educated in the arts, but I'm attracted by the importance of sketches in architecture, for example, and that you need to walk around a sculpture to see different – ​​and all – sides of an object.
---